The Desirable Jaguar I-Pace Concept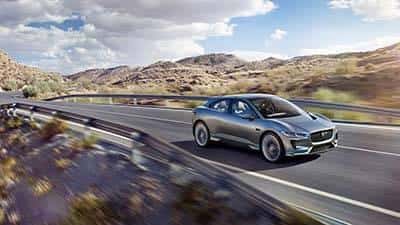 Sometimes a vehicle comes to market that has everything drivers could ever want, and then some. The Jaguar I-PACE Concept is one of those vehicles, and when it becomes available, it will certainly be a vehicle that every Greenwich driver drools over. See why.
Performance
The Jaguar I-PACE Concept is an electronic model that will excite every Greenwich driver it touches. That's because this model generates instant torque, which means you'll experience power right away. In addition, the all-wheel drive element makes it easy for you to zip and zag through the roads, no matter the weather or road conditions.
In addition, the I-Pace Concept model comes standard with a lithium-ion battery, which provides up to 220 miles of travel when fully charged. Aside from the battery, drivers will get to experience the excitement of the 400 hp and 516 lb-ft of torque that also comes standard on this model, giving you the ability to feel good about your next commute.
Design
The exterior of the I-PACE Concept is something you'll definitely want to experience. This model includes the delicate and exciting proportions that come standard on all Jaguar models, but it also boasts an impressive attitude that makes it stand out from other vehicles on the West Port roads.
Inside the cabin, drivers and passengers will be floored by the innovation and luxury. For example, the floating center console creates an appealing amount of space that creates an overall comfort inside. In addition, the panoramic roof opens up the cabin even more with glowing views of the local scenery. If you want to get behind the wheel of a vehicle that excites you while you drive, there's only one model that can do that, and this is it.
Technology
Today's vehicles possess some interesting technology features, and the I-PACE Concept outshines them all. This model includes an easy-to-use touchscreen display, which makes it easy for you to access the information you want when you want it.
In addition to the touchscreen, the I-PACE Concept comes with an intuitive Head-Up Display, which provides important information right on the windshield so drivers don't' have to take their eyes off the road. When you're looking for a new vehicle that will provide you with all the connectivity, information, and entertainment you want, then the I-PACE Concept model is one you'll want to keep in mind.
Stay Updated at Jaguar Darien
The I-PACE Concept vehicle is one of the most innovative and unique vehicles designed by Jaguar in years, and it makes sense that all New Canaan drivers would want one. Be sure to visit Jaguar Darien, located at 1335 Post Rd. in Darien, to stay updated on this new model and its availability, or contact us at (866) 217-4112 to learn more about our current inventory and vehicle financing options. Want to experience more excitement from Jaguar? See how the Jaguar racing platform has evolved over time or compare the Jaguar I-PACE to the BMW i3!