How to Change a Flat Tire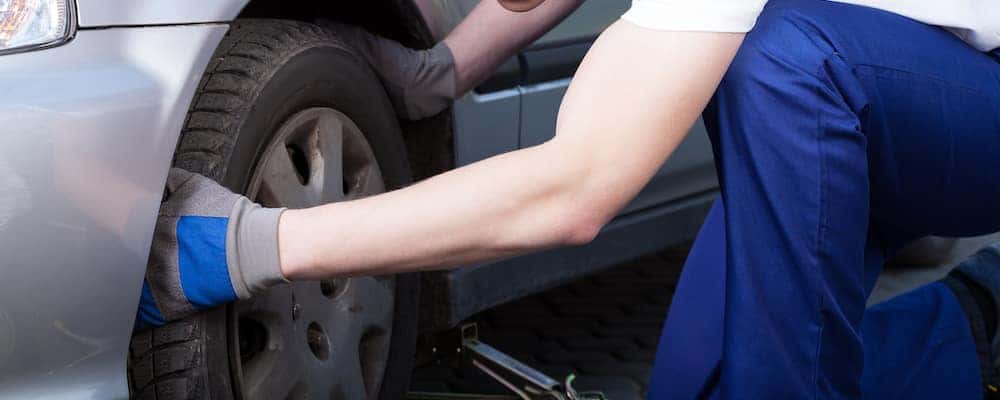 Need to learn how to change a flat tire so that you're prepared in an emergency? While Jaguar Roadside Assistance is always a call away, knowing how to change a flat tire is an important skill to have. Follow these recommended steps from the Jaguar Darien service department!
Tools Needed to Change a Tire
Make sure to have these tools in your car in case you need to change your tire:
Spare tire
JackLug wrench
Flashlight with extra batteries
Flares and reflective triangles
Gloves
Wheel wedges
Steps to Change a Flat Tire
Follow these steps when changing a tire.
Find a safe spot, such as a quiet side street, a parking lot, or the shoulder on an off ramp. Place flares or reflective triangles behind your vehicle.
Take out your spare tire and tools, and begin by placing wheel wedges against the tires opposite of the flat.
Remove the hubcap and loosen the lug nuts with the lug wrench.
Move the jack underneath the car and expand it until the flat tire is about 6 inches off the ground.
At this point, remove the lug nuts and take the flat tire off.
Get the spare tire in place, replace the lug nuts and tighten by hand.
Lower the vehicle back to the ground and tighten the lug nuts with the wrench.
Return the hubcap to its original position, and check the pressure on your spare tire.
Once you've changed the tire, make sure to get to a repair shop as soon as possible to get a full-size tire. Driving long distances or at high speeds is not advised on a donut or spare tire.
When to Contact Roadside Assistance
There are certain situations where it's safer to contact roadside assistance than change the flat tire yourself, including:
Poor road and traffic conditions
Inclement weather, such as torrential downpours or heavy snow
Passenger safety is at risk
Equipment is in poor shape
Schedule Service with Jaguar Darien
Connect with Jaguar Darien near Stamford for more information on tire care or to schedule service to fix your flat tire. We'll make sure your vehicle is in excellent condition to participate in family activities around Greenwich, CT! You can also get more automotive tips at our service center or find out how to read tire numbers online–contact us today!
More from Jaguar Darien
The 2023 Jaguar E-PACE interior has the features and capacities you'll need to feel right at home wherever you go, but you shouldn't just take our word for it. Once you've spent time behind the wheel, you'll see exactly why the E-PACE is one of the premier choices for compact SUV drivers in Greenwich…

The 2023 Jaguar I-PACE rockets from 0 to 60 mph in as little as 4.5 seconds—and since this model is only offered in one configuration, you'll enjoy this incredible performance without paying for any upgrades at all. Interested in learning more about the Jaguar I-PACE engine specs and performance capabilities? Rest assured that the…

In exchange for a starting MSRP of $61,600, the exciting new 2022 Jaguar F-TYPE provides sport-style front seats, premium leather upholstery, and so much more. The 2022 Jaguar F-TYPE is available in both coupe and convertible body styles, and both are spacious. Additionally, all models include high-class technological features and a carefully-crafted interior that earns…